Overview
Since February 2015, we've worked closely alongside the Mail, delivering exclusive, collective energy deals and energy switching to thousands of homes across the United Kingdom.
Energy Helpline remains the comparison power behind the Mail's switching service, who use our white label solution, offline call centre support and customer service care.
The Mail Energy Switch Club is the collective switching hub we operate behind the scenes, where we bring exclusive energy deals, unavailable on the open market, right to the consumer. Our content team provides dedicated copy in the form of press ads and emails on relevant topics within the energy industry. This helps market the collective deals available with the Mail while also sending need-to-know consumer information and switching opportunities to the inboxes of those who have signed up.
Our dedicated partnerships team are not only responsible for maintaining a great business relationship with the Mail, but also for providing industry data insights and energy marketing expertise. Thanks to this, our energy collectives have seen continuous and consistent growth.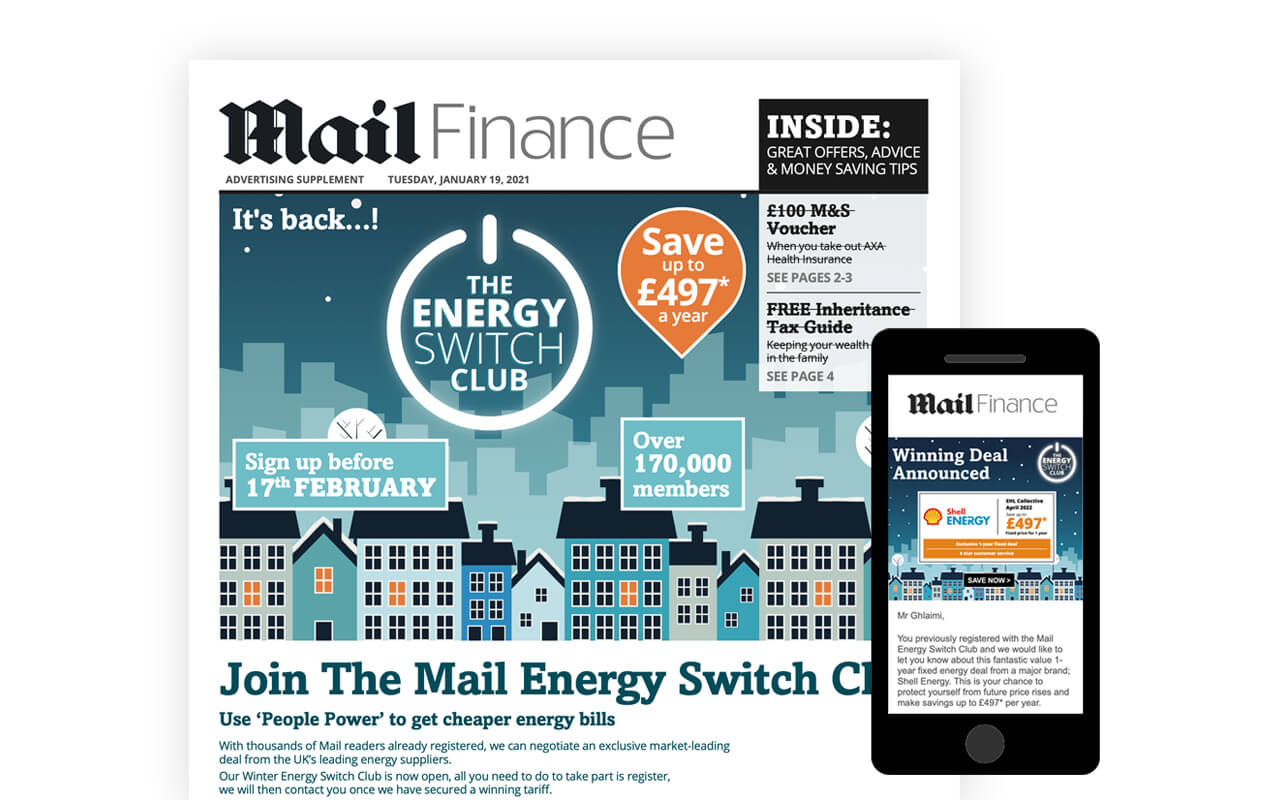 Challenges
Obtain optimal collective deals that are most appealing to the market, while also identifying positive ways to market deals with limited unique selling points.
Write frequent, engaging copy surrounding the energy market throughout the collective campaign, with the aim of encouraging readers to sign up and switch to the collective deals.
Create enjoyable, original email template designs in which to insert our marketing copy to send to the members of the Mail Energy Switch Club to promote the winning collective energy tariff.
Rally around the signing off process which often involves last minute changes in order to make necessary alterations to different parts of the campaign.
Manage the increased send volume due to new consumer registrations, while also maintaining sends to our existing customer contact base.
Ensure all information on our existing contact lists and data from our database is correct.
Results
From the beginning of our collective partnership, which began back in February 2015, we've helped over 50,000 customers save a staggering amount of £14.1million. Every member who has switched to our exclusive energy deals during our Mail collective period has saved an average of £266 a year on their dual-fuel energy bills.
While our collective relationship with the Mail sees brilliant results year after year, we continue to strive for further growth by increasing the number of money-saving deals we offer to UK energy consumers.
"The Daily Mail Group has had a successful and long-standing partnership with Energy Helpline, and the 'Collective Switch Campaigns' have been the cornerstone of this success.

"The concept of using 'people power' to negotiate a market-leading deal really resonates with our readers, and regularly results in record phone enquiry & traffic levels.

"Energy Helpline makes this all possible by negotiating exclusive, market-leading deals for our readers. They also provide the marketing expertise to help us create effective campaigns and, by operating a 1st class white label site and call centre, Energy Helpline consistently exceed lead conversion targets.

"This operational success is all brought together by an excellent Account Management Team who are pro-active in working with us to continually optimise performance. Overall a pleasure to work with!"