Overview
With Digital TV, our aim was to create a service for UK TV consumers that allowed them to make an informed decision when switching to a new digital TV deal. To achieve this, we had to ensure that the service was easy to use and navigate, and that it featured a wide range of deals from the major UK providers.
The partnerships that we have fostered as part of Digital TV have been an essential part in growing the service, with partners such as Sky, BT, TalkTalk and NOW all becoming involved with the brand. Customers are able to compare deals from a variety of UK digital TV providers in order to find the one that works for them.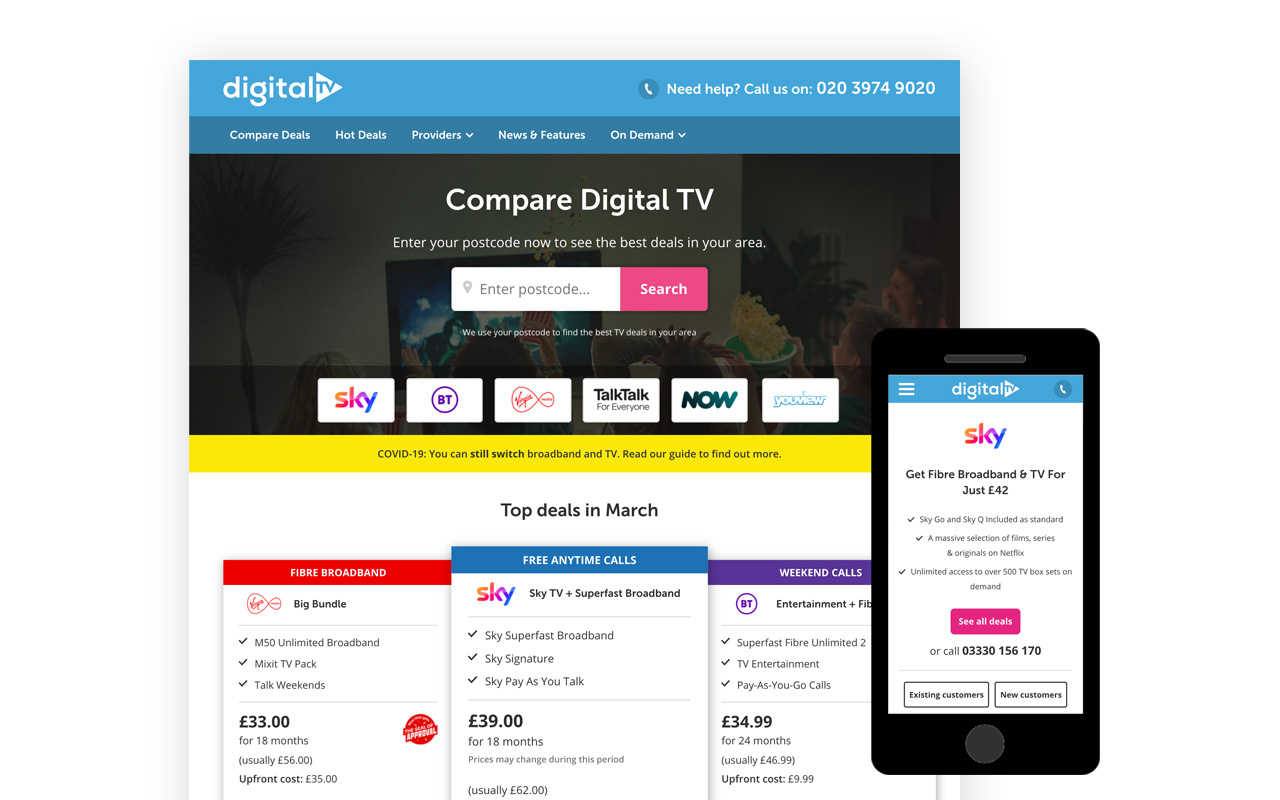 Challenges
Increase profitable paid search traffic to the call centre and site utilising expert in-house set-up and optimisation techniques.
Support offline customers via our own call centres, with agents trained to exceptional standards so they can deliver the best service possible.
Increase organic traffic to the site through dynamic content and SEO techniques.
Focus on making our user experience the best it can be, with easy-to-navigate menus and a clear user interface.
Ensure that our package data and information is up to date in order to fully inform customers as to what they're getting.
Create a comparison tool that's both simple to understand and comprehensive enough that users don't feel like they're missing out on anything.
Results
Between 2020 and 2021, Digital TV experienced a 40% sales increase year-on-year, whilst its number of partners has expanded over time in order to offer users more options when they compare. Thanks to our efforts in improving the user experience and improving our content, we've seen 100% organic traffic growth since 2020, driving users to the site at an unprecedented level.
100%
organic traffic growth since 2020
"Digital TV has proved to be an integral part of our continued growth and progression within the telecoms switching market. We're now able to offer exceptional offline switching support as well as a fluid, simple and efficient customer journey online."